What Are You Breathing In?
Most people take their health quite seriously. Long term good health, though, is reliant upon many different things. One of the single most important? Air quality. You're not always going to be able to detect poor air quality, though. In fact, every day, your body is exposed to tiny amounts of toxins in the air, and this can build up to be a huge problem throughout your life.
Think carefully about where you spend most of your time? For many, that answer is home, so while you can't control the air quality when you go to work or out to eat, the one thing you can do to protect your health is to consider an air purifier at home.
Getting the Right Air Purifier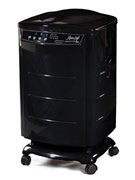 Once you're ready to invest in this essential health-saving technology, your best bet actually is not to head to a local big box store and grab the first one you see off the shelf. Instead, you'll want to do a bit of research so you know exactly what you're getting.
Many of the air purifiers on the market today are little more than dust filters, something that won't drastically improve the quality of the air in your home. Instead, you want to look for something that offers you the technology to pick up the smallest particles of filth in the air. Consider advanced technology like UV and ozone cleaning, as well as the ability to reduce bacteria and mold alike.
Before you buy, you may actually want to sit down and map out your needs. If you want to relieve asthma, you may need something very different than you do if you just want to see less dust on your furniture.
To learn more about the air quality in your home or explore your options, take a moment to contact us today. We'll not only walk you through the potential problems in your home, but also show you the best possible systems!