What Are You Breathing In?
Concerned about the quality of your water? You're certainly not alone. Many people are these days, and with good reason. Thanks to ongoing concerns about spills and generally poor quality water sources, most people are concerned about the water they eat, drink, and bathe with. You may have seen ads so you could schedule a free water test, but what does it really mean to have your water quality tested? This quick guide can walk you through this essential process.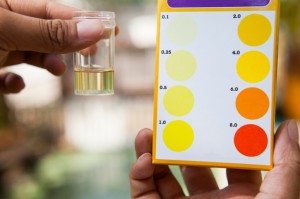 Schedule an appointment. The water softener company you're working with will schedule an appointment that's convenient for both of you. Even if you work during the day or over the weekend, this shouldn't be a huge problem, as they have staff available to test the water as often as is necessary.
The test. The actual test is fairly painless. The water testing technician will take a sample of the water from your kitchen sink. It will help to show the overall quality of your water and identify the areas of concern in your water supply. The testing process doesn't always end there, though. If there are concerns, those same water samples can be sent through the company's labs, to help provide you a clearer picture of exactly what you might be drinking.
Once the process is complete, your water testing technician will likely present you with a number of different solutions for your home. If you have hard water, he or she may have you look at the benefits of a water softener, as it can often take some of the minerals out of your water and provide you with cleaner clothes as well as take some of the load off of your appliances that have had to cope with hard water for so long. If you have other problems in the water, you may find yourself with a high tech water filtration system that will help give you the cleanest, freshest possible water.
Having your water tested can change everything! In just a few minutes, you could learn how to ensure your home has the best possible water available for you and your family. The key is to find the right team to help you test your water. While you can choose an off-the-shelf water testing kit at the hardware store, it often won't be able to offer you the in-depth analysis that so many companies can.Save
To find a company near you that can help, talk to friends and family members who may have previously installed a water treatment system in your area. Ask about the effectiveness of the system as well as the customer service from the team itself. You want to make certain that you get someone you trust to help you test your water.